One-on-One Q&A: Kris Swanberg, Director/Co-Writer, "It was great, but I was ready to come home."
One on One Q&A with Kris Swanberg
Director/Co-Writer,

It was great, but I was ready to come home

Interview by
Erin Scherer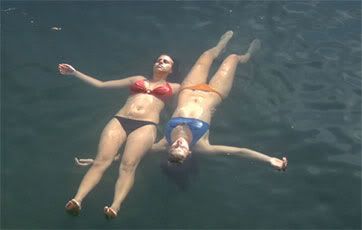 Kris Swanberg (left) with Jade Healy

in
It was great, but I was ready to come home
Kris Swanberg's directorial debut, It was great, but I was ready to come home debuted at the 2009 SXSW Film Festival to glowing reviews. This marked Kris' first major foray into narrative, after previously working in the documentary milieu in projects such as the short, Bathwater, and her Nerve.com web series, Boys and Girls. It was great, but I was ready to come home will next play on Saturday, April 18th at the Atlanta Film Festival.

Erin was inspired to interview Kris upon seeing such phrases as "it was great but i was ready to come home" and "ready to come home swanberg" turn up on the Google Analytics page for her blog. The interview was conducted via e-mail.
Erin: How did you become interested in film? How old were you, and what were your earliest endeavors?
Kris: I first got interested in being a filmmaker at the end of my teenage years. I went to a high school in Germantown, Tennessee, right outside of Memphis that had a great television program. Unfortunately, it was pretty discriminating against female students and I wasn't really allowed to work the cameras or do anything technical that the boys were encouraged to do. That, of course, infuriated me and I went off to college determined to learn those very things. I had always been interested in different cultures and had decided to become a documentary filmmaker. I spent most of my time in film school doing just that.
Erin: You met Joe while you were a freshman at Carbondale. Did you two collaborate on anything while you were still in school?
Kris: Yeah, Joe and I helped each other on a lot of projects in film school, but I don't think we really collaborated on anything specific. We mostly just helped the other one with whatever they were up to.

Erin: I once read an interview with Joe, and he said that Kissing on the Mouth was based on an idea you had in college. What was the original idea, and did it differ from the final result?
Kris: Kissing On The Mouth was in part inspired by a Super 8 project I did for my intro film class in college. It was called "ex" and was an audio documentary project about people's most recent breakups. It was sort of experimental and had some visual narrative elements running parallel to the interviews. It was something that Joe really liked and when we talked about what project we wanted to make out of school that came to mind. Kissing On The Mouth, of course, became a very different project than "ex" which was only about 5 minutes long. It definitely had some similar elements though like all the audio documentary interviews that ended up in the final film.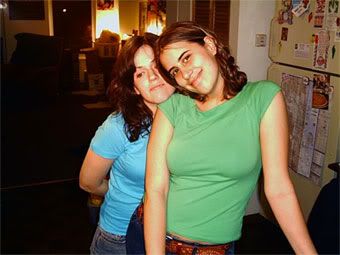 Kris Swanberg (right) during the making of
Kissing on the Mouth with Kate Winterich
Erin: Do you think that working with Joe gave you a lot of confidence to make It was great, but I was ready to come home?
Kris: Absolutely. Joe has always had the confidence to make anything he has had the inspiration for. I've always admired that and watching him follow through with all of his projects has definitely inspired me to make mine.
Erin: Following your graduation from college, you worked as a school teacher, and you are in the process of finishing a master's degree in education. However, you told me at the Indie Go Go party at SXSW that you had been laid off from your job. Are you looking for another teaching job right now?
Kris: I taught high school in a low-income neighborhood in Chicago for two years, but last year the school closed down and all of the faculty and staff was laid off. Even though I was sad to say goodbye to all my students and to a job that I thought I was really getting good at - I definitely felt like it came at a good time. Not only have I had more time to work on my film, but I've also started my own business making ice cream and I'm glad to have more mental energy to work on those things. But I'm not entirely finished with being a teacher. Education is still a great passion of mine.
Erin: While you were teaching, what did you teach specifically? (Did you teach elementary school? Junior High? High School? Any specific subject?)
Kris: I taught film and video to 10th-12th graders.
Erin: In your short documentary "Bathwater," you profile the bathtime rituals of mothers and their children, with the mothers addressing their children in several languages. What was your intent in making the movie? How did you find the families?
Kris: At the time (and today!) I had a great interest in language and in the transference of language from parent to child. I was also interested in the ritual of bathing a child. Its something that we share across cultures and even species. I thought of combining all of those things into a short documentary using verite footage. I found the subjects on craigslist. I just advertised that I was looking for bilingual mothers and I got a lot of responses.
Kris Swanberg's Short Documentary
Bathwater
Erin: With the exception of It was great, but I was ready to come home, most of your own film work (exclusive from Joe's) has been documentaries. Do you think you will return to the form, and perhaps even make a feature length documentary?
Kris: Right now I think I'm more interested in making narratives, but I could definitely see myself making more docs in the future.
Erin: It was great, but I was ready to come home debuted at SXSW last month, but you shot the movie in December. How did you manage to turnaround so quickly and get it into competition?
Kris: Well we shot the film over three weeks in Costa Rica with David editing a lot of it while we were in production. In early January I flew David to Chicago so we could finish editing here and he was able to get a pretty good cut outside of a week. Then we overnighted it to Janet [Pierson] at SXSW. As for getting it into competition - that wasn't something we asked for or even expected. We were very surprised and grateful.
Erin: How did you script the movie? Did you have an outline, or did you do what Joe and Greta did with the latter half of Nights and Weekends, and get together with Ben Kasulke over breakfast and discuss what you wanted to shoot that day?
Kris: We didn't have a script or an outline. I had phone conversations with everyone involved before we left but we didn't start to have real plans until we were already in Costa Rica together. Our entire trip was sort of a constant production meeting and we were always checking in with each other and looking at footage an reassessing what we were doing. It was almost as though we were writing the script as we were going along.
Erin: I take it that It was great... came from the desire to explore an idea--in your case, female friendships--and the story grew out of that. Am I right?
Kris: Yes. I have been wanting to make a film that explores female friendship for a while. The other themes explored in the film came about after that initial intent.
Posing for the camera with Jade Healy (left) in
It was great, but I was ready to come home
Erin: At the premiere of the movie, David Lowery stated that the movie he saw on screen was different from the one you had gone to shoot. What were you originally intending on shooting, and how did that differ from the final product?
Kris: I'm very proud of the film we made and as far as I can remember that's exactly what I wanted to make!
Erin: How did you coordinate the shoot? Did you have a tightly planned schedule? Shooting the movie in Costa Rica, did you have a problem with customs? (Getting equipment, etc.)
Kris: Costa Rica was an amazing country to shoot in and we didn't have any problems at all. As far as our schedule it varied depending on where we were in the shoot. Most days we shot between 3-5 scenes but some of those were heavily planned and some weren't and then of course some days we shot more or less. It depended on where we were and what we had to get done.
Erin: I read in Paste and at The Spout Blog that you are now running an ice cream business. Can you tell us more about it? What are your current flavors, and where can one buy it?
Kris: Yes, I have an ice cream business in Chicago called Nice Cream. You can check it out at NiceCreamChicago.com. I sell my ice cream in pints to different grocery stores and cafes in the city. I change my flavors seasonally so right now for the Spring flavors I have Earl Grey Tea Ice Cream with Shortbread Cookies, Vanilla Bean Ice Cream with Lavender and Graham Crackers, Cream Cheese Ice Cream with Carrot Cake, and Chocolate Ice Cream with German Chocolate Frosting. They're delicious!
Labels: Bathwater, David Lowery, It was great but I was ready to come home, Joe Swanberg, Kissing on the Mouth, Kris Swanberg, Nice Cream, SXSW