A Conversation With Todd Haynes and Richard Linklater @ SXSW, 3/17/09
A Conversation With Todd Haynes & Richard Linklater
Tuesday, March 17 at 1:00pm
Austin Convention Center, Austin, TX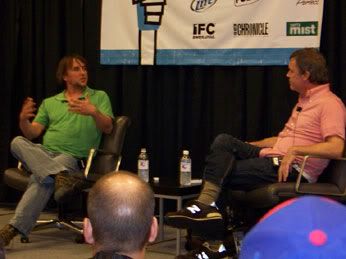 Linklater and Haynes took the stage with no moderator, sat down, and began a conversation like the old friends they are. Linklater was the first to speak, making some comments about a private screening of Superstar that took place the night before. Linklater commented on the fascination that many of the younger viewers experienced while they were viewing the film.
Haynes and Linklater first met in the late 1980s, at the IFP Market. Haynes had done Superstar, and Linklater was in between It's Impossible To Learn To Plow By Reading Books and his breakthrough feature, Slacker. Linklater wanted to bring Haynes to Austin on behalf of the Austin Film Society.
Parts of the discussion touched upon the changing state of Independent Film. They mentioned that it's becoming more difficult to finance movies, even with stars. Haynes recalled a recent conversation he had with a financier who told him that, paraphrasing, "We're going to have to start reading scripts again." Haynes thought that financiers might have to read scripts again could be a good thing.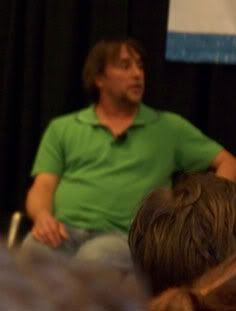 Linklater said that he too had difficulty getting funding for his upcoming film, Me and Orson Welles, despite having Zac Efron in the cast. Many funders passed on Me and Orson Welles on the grounds that The High School Musical Crowd wouldn't find it appealing. Another obstacle was that the actor that Linklater cast as Orson Welles is a newcomer who had previously played Welles onstage.
Questions were asked throughout the course of the panel. A member of the audience asked Linklater about an ongoing project he is shooting, which follows a boy from the ages of 5 to 17. Normally, you would see different actors play the same character at different ages, having the same actors age normally. Linklater is shooting a little bit each year over the course of 12 years, and mentioned that he had just finished shooting year six.
Another question came from Jim Fouratt, a legendary gay rights activist and journalist, who asked Haynes what it was like to come of age just as AIDS was emerging into the public consciousness, and did that effect him in any way. Haynes said that it had a profound effect on him. Haynes was a founding member of the activist collective Gran Fury.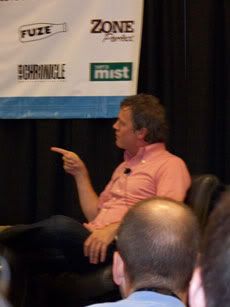 Both recalled a story about Madonna attending a screening of Poison in LA. Madonna came into the theater, and the trailers began. The first one was for Slacker. The opening scene for that trailer had Teresa Taylor carrying around Madonna's Pap Smear. The whole audience--many gay men--turned around, looked at Madonna, and Madonna walked out.
Haynes shared with the audience that he was very reluctant to pursue his most recent movie, I'm Not There, about Bob Dylan, because of the previous troubles he had getting rights to songs. Superstar is not legally available, and David Bowie refused to let Velvet Goldmine use his songs. At the time he had moved to Portland and was working on Far From Heaven when he began listening to Dylan's songs. Haynes knew Dylan's son Jesse, and after meeting Dylan's manager, sent a one page proposal. Dylan liked the idea and gave it a go-ahead.
When an aspiring filmmaker asked both Haynes and Linklater what criteria he should consider when embarking on a project, both Linklater and Haynes agreed that you should find something you care about, then pursue it.
Labels: Austin Film Society, Far From Heaven, I'm Not There, Jim Fouratt, Me And Orson Welles, Poison, Richard Linklater, Slacker, Superstar: The Karen Carpenter Story, Todd Haynes